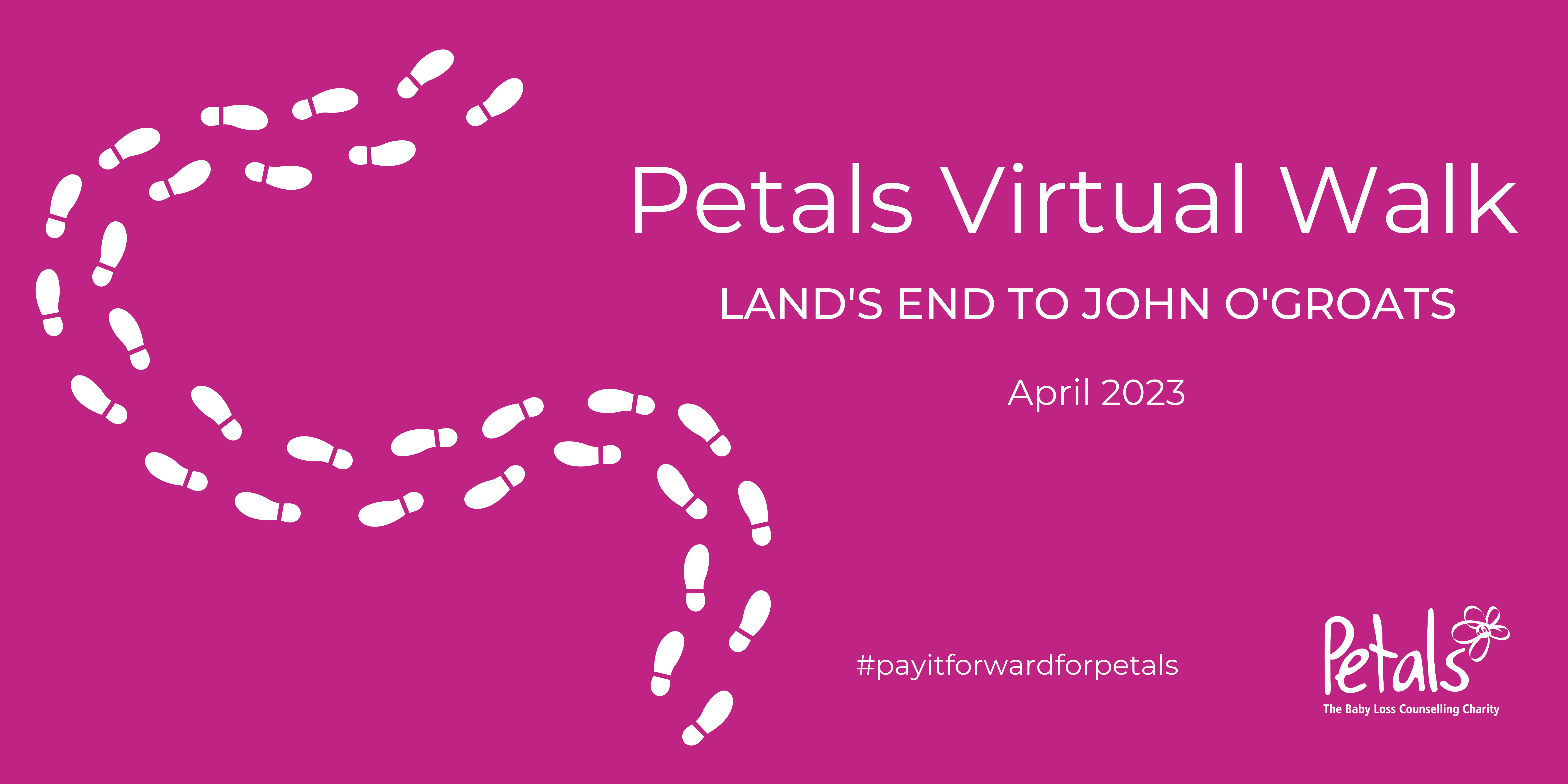 Team Petals are Walking Together from Land's End to John O'Groats
We are kicking off our 2023 Pay It Forward for Petals campaign with a virtual walk with a difference.  This April, will you help us walk from Land's End to John O'Groats to raise vital funds to expand our service?  
We are working in partnership with the free-to-download, Myles app, which will track both your individual distance and the Petals team's total distance as we walk across the UK.  A virtual map will also show the collective #TeamPetals' progress. Every mile you log will help us on this mammoth journey!
Demand for our specialist counselling service has never been so high.  Heartbreakingly, last year we were forced to turn away 738 people who came to us for support as we simply did not have the funds to support them.
Having to turn away anyone goes against everything we stand for, and we are determined to rapidly expand our service in 2023 – will you help us?!  Together we can make a difference to the lives of many more bereaved families.
Sign-up now to get your free Petals t-shirt and join the Petals community on this very special virtual walk. We will be stopping off to visit our NHS partners along the way and celebrating the incredible work being done by our counsellors across the country.
Simply click below to complete the registration form which includes all the details you need.  
Once you have submitted the form below, please look out for an email from Petals which will include a link to pay your registration fee.

 Registration for this very special event is £12. Each counselling session we provide costs Petals £80, so we are asking everyone who signs up to #payitforwardforpetals by raising a minimum of £80.

 
We are delighted to be working in partnership with Myles Wellbeing to track the Team Petals' progress on this very special virtual walk.  Their app is free to download and will track our progress as we make our way from Lands End to John O'Groats.  The app links to all the following trackers: Apple Health, Google Fit, Fitbit, Under Armour, Strava, Withings, Zwift, Oura, Polar, TrainingPeaks, Peloton, Suunto, Concept 2, ifit, Tempo, iHealth and Strava. We will be kicking off on the 1st April and we can't wait to get underway!